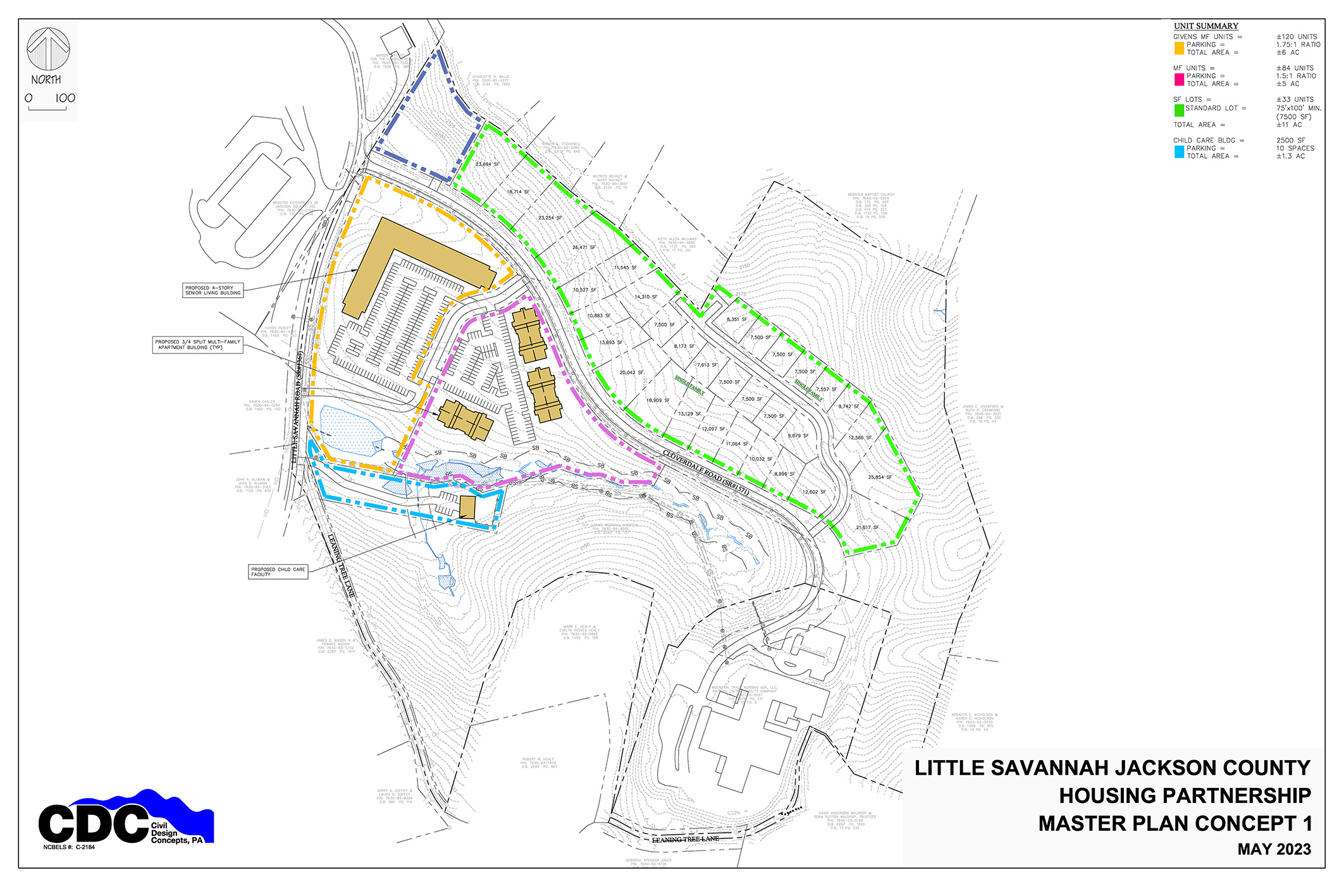 JACKSON COUNTY – A local partnership is poised to make a large impact on regional housing needs by providing new options for Jackson County seniors, low-to-middle-income families and business professionals.
Webster Village, a partnership between Givens Communities, Western Carolina University and Mountain Projects of Sylva, plans to create approximately 211-237 new housing units in Jackson County near the Webster community.
The collaborative project was able to go forward because of financial contributions from Dogwood Health Trust.
"Our regional housing needs are greater than any one agency can address," said Patsy Davis, executive director of Mountain Projects. "Dogwood Health Trust has provided an opportunity for us to come together and meet a big challenge. We have a powerful concept and the right partners to make this project a success."
"Safe, stable and affordable housing is key for overall health and wellbeing," said Dr. Susan Mims, CEO of Dogwood Health Trust. "Dogwood Health Trust is honored and excited to play a role in this creative work by committed partners who are collaborating to make Jackson County truly feel like 'home' for seniors, low-income families and members of the workforce." 
Givens Estates will play a lead role in the component of the partnership focused on seniors. 
"Studies of the Jackson County housing market have shown a significant demand for low-cost retirement communities," said Teresa Stephens, Vice President of Givens Affordable Communities. "Independent older adult can thrive by the Givens model of housing with supported services."
Webster Village is a highly creative project, set to play a positive role in three very different sectors of housing.
"This is a great example of the cooperative approaches that are taking place across our region to tackle big issues like affordable housing to help seniors age in place and offer a place to live for the workforce serving them and the community," said Mims.
Stephens agreed. "We believe that by introducing this approach to Jackson County, we will be able to address some of the county's most pressing housing challenges," she said.
"Our participation in this project further illustrates Western Carolina University's commitment to the economic well-being of our region and the lack of available housing that for all income segments in Western North Carolina has become increasingly alarming," said WCU Chancellor Kelli R. Brown.
Preliminary site plans are for three housing clusters that will serve a broad range of residents. They are as follows:
Givens Communities plans to develop 120 senior living apartment units.

Mountain Projects plans to develop 35 single-family homes for low-to-moderate-income families.

Western Carolina University, or its designated partner, will develop 50-85 multi-family apartments, to include 1-, 2-, and 3-bedroom units, targeting adult working professionals and their families.
 WCU leadership is excited about the project and how it will help new professionals interested in locating in the region.
 "Together with our partners at Mountain Projects and Givens Communities, the Webster Village project will provide a central location for multi-income housing in Jackson County for senior citizens and valued members of the community's workforce." Brown said. "Our goal is to be part of a project that isn't specific to only WCU faculty and staff, but one that provides opportunities for adult workers and families who are essential to the growth and sustainability of the region that we serve."
 Patsy Davis, executive director of Mountain Projects of Sylva, agreed.
 "Each partner brings a unique perspective, and together we present a comprehensive approach with multi-income housing," Davis said. "The demand for housing exists across all income levels and our approach addresses the housing needs of seniors, professionals and families who haven't had the opportunity for home ownership." 
###
About Dogwood Health Trust
Dogwood Health Trust exists to dramatically improve the health and well-being of all people and communities in the 18 counties and Qualla Boundary of Western North Carolina. Working with the community, grantees, partners, researchers and scholars, Dogwood Health Trust collaborates to create a Western North Carolina where every generation can live, learn, earn and thrive, with dignity and opportunity for all.
Dogwood makes investments that serve the immediate and long-term needs of Western North Carolina. Through the sharing of resources, which includes funding and other investments such as capacity building, convening and advocacy, Dogwood is engaging the regional community to work towards its purpose to dramatically improve the health and wellbeing of all people and communities of Western North Carolina.
About Givens Communities
Givens has provided a rich, meaningful retirement community living for more than 40 years. Givens Estates in Asheville began in 1979 with low-income apartments for seniors and grew into a Life Plan Community with a full continuum of care. In 2007, Givens Great Laurels, 100 affordable senior apartments, opened in Waynesville, and in 2012, Givens acquired Highland Farms, also a Life Plan Community, in Black Mountain. From 2016-2018 Givens developed Gerber Park in South Asheville to provide 262 additional low- and moderate-income apartment homes with supportive services. 
The Givens Board of Directors has maintained a strong commitment to serving older adults of all income levels and the organization is partnering with Dogwood Health Trust and local stakeholders to help address the need for more than 10,000 units throughout Western North Carolina. Visionary leadership, a culture of service and giving back, and maintaining our values all contribute to the organization's achievements, the most important of which is our residents living fully and enjoying life.
About Western Carolina University
Western Carolina University's main campus is located in Cullowhee, just over 50 miles west of Asheville. Our 600-acre mountain campus is surrounded by one of the most biodiverse regions in the state that provides students unparalleled learning and adventure opportunities. Named the #1 Outdoor Adventure School, our Cullowhee campus' proximity to the Great Smoky Mountains National Park provides research and discovery access for a wide variety of programs.
About Mountain Projects of Sylva
Mountain Projects is a community action agency, founded in 1965 with offices in Waynesville and Sylva. Our programs work to address the root causes of poverty and we administer programs that result in economic independence and self-sufficiency for our clients. Our programs include Head Start, Smoky Mountain Housing Partnership, Haywood Transit, Haywood Senior Resource Center, GetCovered WNC Affordable Insurance Counseling, Mountain Strong WNC Substance Misuse Prevention, and the Haywood Senior Resource Center. From housing to healthcare counseling and from Pre-K education to public transportation, Mountain Projects works to make Haywood and Jackson Counties better places to live.
Mp_webster_master_plan.jpg: Webster Village is planned for a parcel located on Cloverdale Road, off of Little Savannah Road, near its intersection with NC116.
https://mountainprojects.org/wp-content/uploads/2023/08/mp_webster_masterplan_web-1-1.jpg
1417
2125
Mountain Projects
https://mountainprojects.org/wp-content/uploads/2018/02/logo2.png
Mountain Projects
2023-08-16 14:31:15
2023-08-16 14:44:29
Local Partnership To Make Impact On Regional Housing Needs