FEMA Information
A federal disaster declaration has been approved for damages incurred from Tropical Storm Fred.
Information is available here:
Disasterassistance.gov
1-800-621-3362
1-800-462-7585 (Speech and Hearing impaired)
Emergency Section 8 vouchers are available for displaced residents
Please help us reach those who have been displaced by yesterday's flood. If you or someone you know need emergency rental assistance, Mountain Projects has opened an application process to flood victims only.
Call 828-452-1447 to receive assistance over the telephone, or click the button below.
Free Mudslides/Flooding Home Cleanup Hotline Available Now
From now through September 10, 2021, several relief agencies are staffing a free hotline for debris removal and home cleanup after the recent mudslides and flooding.
This hotline will connect affected residents with reputable and vetted relief agencies that will assist in chainsaw work, debris removal, drywall, flooring and appliance removal, roof tarping, and mold treatment, as they are able. All services are free, but service is not guaranteed due to the overwhelming need.
"North Carolina VOAD is committed to working with reputable, vetted relief organizations that have come to help," said Ann Huffman, President, North Carolina VOAD (Voluntary Organizations Active in Disaster). "Affected residents should simply dial 828-222-3975 for help."
"Voluntary relief agencies play a vital role in whole community recovery. The police and fire departments are there for emergencies, but they don't have the time or resources to clean out homes. This partnership helps connect affected residents with local relief agencies working in the area," said Larry Marks, North Carolina VOAD representative.
"We are offering this service through September 3, 2021 to help facilitate cleanup by various aid agencies standing by to assist those affected by the storms," says Aaron Titus, Executive Director of Crisis Cleanup. "This hotline will alert multiple relief agencies that residents need help. All services are free and performed by vetted and reputable relief agencies and members of VOAD. Response times will vary so we ask residents for their patience while the teams organize their response to help."
Phone lines will be open until September 3, 2021. Hotline hours may be extended to the weekend as volunteers are available to answer phones. Importantly, this hotline cannot assist with social services such as food, clothing, shelter, insurance, or questions about FEMA registration.
Families affected by the disaster with home cleanup needs may dial 828-222-3975 through September 3, 2021.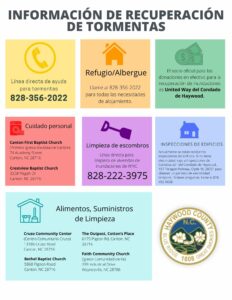 Rapid Re-Housing Challenge
Haywood County's faith-based community, along with Mountain Projects, Recover Haywood and The United Way are working to restore housing for displaced households affected by Tropical Storm Fred.
Our mission is to bring existing homes to a basic level of safety, security and sanitation as quickly as possible–usually in about one week. This provides homeowners a safe space to rebuild their lives.
North Carolina Baptist Builders, who are often seen working in hurricane relief, will move their base to Haywood County to begin work September 1st, and will coordinate local volunteers and resources along with Mountain Projects.
Click below to learn how you can help us meet our sponsorship goals!
Emergency Housing Fund
The Emergency Housing Fund is dedicated to re-homing victims of the recent flood along the Pigeon River and its tributaries. Mountain Projects is providing emergency vouchers to assist with the cost of rentals and our staff is learning that rental deposits are an obstacle for many applicants. We need your assistance to get these community members into safe, clean, dry housing.
If you are able to make a contribution towards emergency housing, please visit this link, or deliver a check to Mountain Projects, c/o Emergency Fund, 2177 Asheville Road, Waynesville, NC 28786.
100% of your donations will be allocated to re-homing Haywood County flood victims. 
Do You Have a House to Rent?
If you have a house you're willing to rent to families displaced by flooding, please call Amber Edwards at Mountain Projects, 828-452-1447 or aedwards@mountainprojects.org.
United Way Coordination Information
United Way of Haywood County is working closely with County government and local non-profits to gather information about immediate needs of the victims of recent flooding in Canton, Clyde and upstream communities. Partner agencies are committed to the long-term, multi-layered recovery efforts and have aligned our services to serve the community:
The Haywood County Call Center and Helpline, operated by the Haywood County Government, offers a single point of contact for all efforts related to the flood: 828-356-2022. If you have immediate life-threatening needs, please call 911. 
Hotline hours are 8 a.m – 8 p.m. Please use this line for the following:
Concerns about missing loved ones

Emergency shelter needs

Requests for food, or resource assistance

Volunteer or donation opportunities

Other storm-related needs
The United Way is coordinating financial contributions to nonprofit agencies serving flood victims. Please contact Executive Director, Celessa Willett, 828-356-2832 to make a donation. Supporting agencies include:
Mountain Projects, which will support case management and is available to take applications for Section 8 Housing based on income eligibility. Haywood Public Transit, a division of Mountain Projects, offers free transportation to those affected by flooding. Mountain Projects will update its Facebook page to share up-to-date information and opportunities for those in need.

The Haywood Pathways Center is accepting applications for emergency shelter. Individuals and families must meet eligibility requirements.
The Salvation Army is providing food at the Jukebox Junction at the intersection of US 276 and NC 215 in Bethel. Clothes to Kids is working with the school system to meet clothing needs for children. Lifeworks is distributing water and snacks near Canton.

Stay tuned for ongoing, accurate recovery information through Haywood County Emergency Services Facebook page: https://www.facebook.com/HaywoodCountyEmergencyServices.
To receive services or to make a donation in support of nonprofit-based recovery efforts, please contact the United Way of Haywood County, 828-356-2832.