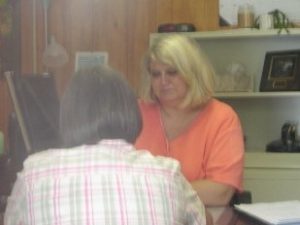 Intake/Eligbility
Anyone needing eligibility based services through Mountain Projects must complete a computerized application with an intake specialist. Each Mountain Project program has specific requirements and guidelines for eligibility. The application process takes around thirty to forty five minutes. A customer can apply for multiple in house programs without having to make several appointments. Information and referrals are available to services outside of the agency as well.
An intake specialist is available in both Haywood County and Jackson County offices. Call for an appointment Haywood County 828-452-1447 ex 112, Jackson County 828-586-2345 ex 1.
GED
Mountain Projects has partnered with Southwestern Community College to have an evening GED class. These hours were chosen to accommodate customers that work, have childcare problems or need transportation. The age limit is 16 years and up. Mountain Projects is a relaxed environment for working hard to reach the goal of getting a diploma. The classes are on Tuesday and Thursday from 4:30pm to 7:30pm. There is no cost to take the class and a light meal and snacks are provided.
The GED starts out with registration to Southwestern Community College. Then a CASSA assessment is given to check reading and math levels. The CASSA will determine how long it will take to complete the GED. If the score is high enough, or with some remediation the pre-tests are given. There are five subjects: social studies, science, reading, math and writing. All subjects must be passed before taking the GED test. The GED is given once a month at Southwestern Community College.